Well I hope that everyone had a lovely Thanksgiving holiday. I'm sad to see this 4 day weekend come to an end. BLEGH! Back to work tomorrow, WOMP WOMP WOMP! Oh well
, gotta make that money. My Thanksgiving was lovely! It was sooo go
od to be around family, friends, tons of food, and wine! MMmM! As for

Black Friday

, me and the husby decided to take advantage of the good deals. We started shopping around 9am and we didn't get home till 3:30ish? GAH! Our itinerary:
NEX (Navy Exchange)

Best Buy

Lowes

Home Depot x3 (the husby was looking for this doorbuster tool set, but they were sold out everywhere! so yes, we went to THREE Home Depots.... fun! NOT REALLY!)

Lunch @ El Pollo Loco (WOO! This is the first one in VA BEACH!) MMM!

Target

Mall

Then, Gordon Biersch at night to catch up with everyone in town.
HAUL BOX!
So! I was able to get some Christmas shopping done, but I wasn't
able to resist some good deals. GAH! It's the junkie in me! BUT! I got a bonus at work so I deserve some goodies! Right? Ookay so my sis in law, Patricia, raved about Tea Tree Lavender Mint Shampoo/Conditioner. Soooo, while I was at the NEX, I had to check it out. Dang it, Trish! PUHAHA! Oh well, I LOVE IT! It definitely has that cooling/soothing feeling and it smells soo good and it just helps you wind down.

I know the husby is freaking out a a bit cause I have way too many s/c in the
bathroom. When he takes a shower, I can hea
r all the s/c's falling on the floor when he reaches for one. PUAHAH! EEKS!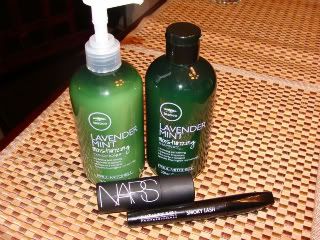 Oookay, call me crazy but I wasn't too satisfied with my DiorShow Mascara. The last time I was at Sephora, I got Smokey Lash as a deluxe sample. Then, I noticed myself reaching for Smokey Lash over DiorShow. So at Sephora, I returned my DiorShow and purchased Smokey Lash instead. THEN! Since Sephora sent me a coupon via email, I had to use it! $15 off your purchase over $35. Soooo, I took advantage and purchased a NARS Luminizer. Now, here's where I'm bummed. I swatched, and I found the one I liked, well a couple. =). So the testers at Sephora have their little placeholder with the names of testers, well some dumb broad must have tested and didn't put it back in the right place. When I opened the package at home, it was the wrong color!!! GAH! I tried it, it was alright, but I prefer the one I wanted. Soooo, note to self: Look at the bottom of the product for the name, not the placeholder tester. Stupid me...
As for Saturday, me and the husby were complete bums! We just wanted to stay home. He wasn't feeling that great anyway. So, we loafed all day, and hung out in sweats and tees. It was sooo nice just to relax. We
h
ave
been sooo busy running a muck the days before. I also wrapped

presents

, take a looky. I loooovvveee wrapping presents! It puts me in a good mood.



Oh yeah! One more thing! Look at what my friend Kim got me!
I
love her! PUAHAHA! But it definitely pays to have friends in the biz! She knows how much of a feen I am for hair products, so she calms my cravings.

Reason why I'm showing you this is because

CIBU

has their holiday set
s available online on their website. AND!! Tomorrow is CYBER MONDAY!! YouTube Video PROMO

PROMO CODES




SHIPMON

: Free Shipping on ANY ORDER


HALFMON

: 50% Any Full Size PRODUCT!


PINSMON

: Free Bobby Pin Sliding Tin
If there's one thing you should get, it's PHO FINISH!! Dead serious, hands down, this is the best hairs
pray I have ever used. It holds my curls all day w/o weighing it down. Your hair is moveable and manageable. No stickiness! This is my HG hairspray.

Oookay, I've spent some time on this blog. Time to get ready to head to my parent's house. I'm going to help my momma decorate her tree. WOO! OooOH I can't wait till me and the husby get our own tree!!

Have a lovely day!